Fleet Management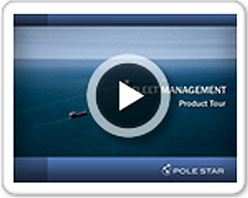 With Fleet Management, you can enhance fleet performance, manage risk and support compliance with a complete fleet monitoring and management solution that delivers decision-ready data at the click of a button.
You get highly accurate satellite tracking data, powerful analytic tools and advanced mapping with operational layers, in a single, integrated, web-based application that can be accessed anywhere, without downloads or installation.
Start tracking your fleet immediately using the existing onboard Inmarsat-C terminal. Alternatively, if an Inmarsat-C terminal is unavailable or unsuitable, the plug-and-play FM1 offers highly reliable tracking and two-way global communications.
Contact us for more information about our Fleet Management service.
---
Key Benefits
Risk Management
React faster in the event of a security situation with Fleet Management's suite of Risk Management tools.
Compliance Management
Simplify compliance with conditions of insurance, sanctions regulations, environmental obligations and conservation measures with automatic alerts by email/SMS whenever a ship enters or exits key zones including War Risk, PSSA and MARPOL areas.
Voyage Monitoring
Monitor speed and progress against a voyage plan, see up-to-date ETA and make schedule and fuel saving adjustments to improve operational efficiency. Download trail-history data to make precise off-hire calculations.
Access Anywhere
Unlimited users, unlimited sessions and powerful user-permissions controls allow you to share and control fleet information with colleagues, charterers, investors and even crew and their families. The web-based application is accessible on any PC, without downloads or installation, and alerts by email/SMS mean you can stay in touch with your fleet, wherever you are in the world.
Pay-as-you-Go
Whether you need to track a fleet of five or five-hundred, Fleet Management is a cost-effective, contract-free, pay-as-you-go solution.
---
Key Features
Monitor and manage a global fleet 24 x 7 using one system, with complete fleet data accessible in a single view
Interactive browser-based map presents global position of your fleet
Route vessel position reports to email and SMS for out-of-office updates
Option to poll a vessel for a position report
Customisable Geo-Zones denote user-defined areas or regions of interest
Automatic increase of position reporting frequency in areas of high security risk or enhanced regulatory requirements provided by Industry Zones feature
Complete vessel history – essential data for off-hire calculations
Voyage Monitoring functionality supports schedule and ETA management
Integrated global weather forecasting, including cyclone information
3D mapping applications for customised display
Complete control of user access to improve data security
Optional automatic link to USCG Amver reporting system
Choice of hardware integrations
Recommended Hardware
Existing Hardware - Sat-C

Buy

Track your ships using the existing Inmarsat-C terminal installed on board (e.g. GMDSS equipment required on most SOLAS-class ships). Fleet Management supports a wide range of third-party Inmarsat-C equipment from Thrane & Thrane, JRC, Furuno and others. Capsat software version 2.21 or above is required.

---

Monitor and manage a global fleet 24 x 7 using one system, with complete fleet data accessible in a single view
Interactive browser-based map presents global position of your fleet
Route vessel position reports to email and SMS for out-of-office updates
Option to poll a vessel for a position report
Customisable geo-zones denote user-defined areas or regions of interest
Automatic increase of position reporting frequency in areas of high security risk or enhanced regulatory requirements provided by Industry Zones feature
Complete vessel history – essential data for off-hire calculations
Voyage Monitoring functionality supports schedule and ETA management
Integrated global weather forecasting, including cyclone information
3D mapping applications for customised display
Complete control of user access to improve data security
Optional automatic link to USCG Amver reporting system
Choice of hardware integration options

Dedicated Hardware - FM1

Buy

Ideally suited to charterers, the plug-and-play FM1 transceiver is easy to install and provides the superior reliability expected of a dedicated transceiver. This stand-alone tracking unit is recommended for when existing onboard equipment is either incompatible with Fleet Management or falls below required performance standards.

---

Can be installed by crew
Supplied with marine grade stainless steel universal mounting bracket
8m cable with integral moulded connector
Low elevation angle antenna for reliable performance
IsatM2M network provides low message latency
Two-way communications and over-air programming
Automatic ocean region switching enhances performance

Brochure