Marine Asset Tracker 2.0
Marine Asset Tracker (MAT) 2.0 has been completely redesigned to make it easier than ever to manage your marine assets. With larger maps, streamlined navigation and minimalist design, you will see more of what matters — your fleet.
Choose from a range of new hardware, satellite, and service plan options to create custom packages that meet the unique needs of each asset in your fleet. From intelligent realtime monitoring to basic daily tracking, MAT 2.0 offers you the flexibility to manage the operational and regulatory requirements of your entire fleet, whether you have five assets or five-hundred.
Contact us for more information about our Marine Asset Tracker service.

---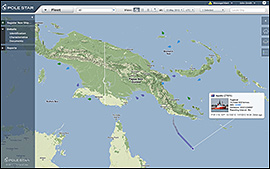 Intuitive Interface
Completely redesigned for the greatest possible usability, MAT 2.0 offers a sleek new user interface to simplify and streamline your operations. Enhancements include:
Intuitive full-screen maps
Instant ship search
Auto-locate function
Zone & weather layers
Ship photographs
Dynamic voyage trails
---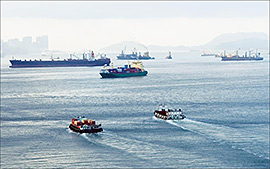 Flexible Packages
With flexible pricing per asset, you choose the hardware & service plan combination that meets the unique needs of each asset in your fleet.
From basic daily tracking to intelligent realtime reporting, MAT 2.0 allows you to build a complete situational picture of your entire fleet, regardless of the hardware installed on board.
---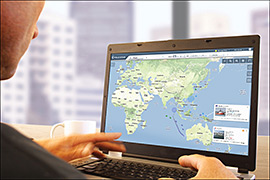 Cloud-based Software
Marine Asset Tracker 2.0 is a cloud-based tracking and monitoring application that can be accessed using your web browser (without software downloads or installation), wherever you are in the world*. Whether you're in the office, at home or on the move, you're never disconnected from your fleet. What's more, because the software is in the cloud, you can be sure that you're always running the latest version.

* Required: Internet connection; Google Chrome (recommended), Firefox or Internet Explorer version 8 onwards

---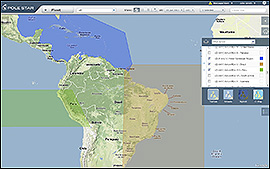 Zone Overlays
MAT 2.0 comes complete with a suite of over 100 industry zones, so that you to start monitoring your fleet immediately. Choose from high-risk, political, environmental, insurance and conservation zones.
MARPOL Special Areas
Joint War Committee areas
High-risk areas
Right whale conservation areas
PSSAs
UKMTO, MSCHOA & IRTC
---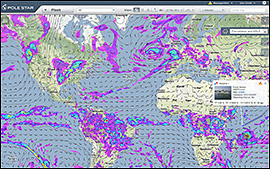 Weather Overlays
Overlay global forecast weather conditions onto your map, for complete situational awareness. Weather graphics are powered by WXTiles from MetOcean Solutions Ltd. Weather forecast data is sourced from NOAA and is updated every 6 hours.
Precipitation and MSLP
Winds (at 10m elevation)
Air temperature
Wave height and period
Visibility and storm/squall risk
Sea surface temperature
---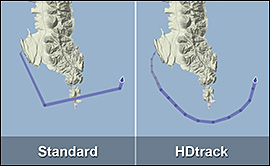 HDtrack - Intelligent realtime reporting
By utilising the advanced event-driven functionality of the MAT-IDP690 and packaging more data into each transmission, we can now offer you more data when you need it, and less when you don't - to save you money.
HDtrack leverages the latest advancements in satellite communications technology to deliver intelligent realtime reporting.
* exclusive to MAT-IDP690

---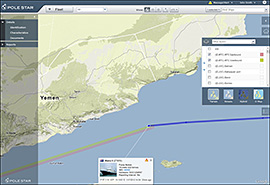 Incident Monitoring
React faster in the event of a security situation with MAT 2.0's suite of incident monitoring tools:
Start by finding your ships with instant search and auto-locate functionality.
Next, build a complete situational picture with 100+ stackable, high-risk, regulatory and environmental zones.
Meanwhile, monitor sea conditions by overlaying graphical weather forecasts.
All on a single screen.
---
Safe & Secure
Stay in control of privileged information with MAT 2.0's suite of advanced security features including user permissions, update history, HTTPs encryption and password protection.
Permissions: Protect your data by restricting access to specific system features and areas with permission controls that can be configured per-user.

History Logs: Whenever a user edits data, the system keeps a log of their username, and the date and time of the change, so that you can ensure data quality and accountability.


Recommended Hardware
MAT-GS

Choose MAT-GS when you need to track unpowered marine assets in remote locations and inhospitable environments.
Small enough to fit in the palm of your hand, the ready-to-install terminal is easy to fit without the need for harnesses, antennas, or an external power supply. Powered by 4 x AA 1.5V lithium batteries.
Ideal for: Unpowered assets, barges, unattended installations.

---

"Fit and forget" vessel-ready terminal
Operates in extreme temperatures and conditions
Requires no harnesses, no external power and no external antenna
Minimal maintenance requirements
Reduced satellite messaging if asset remains in same location
Up to 1+ years operation with 4 x AA batteries (not included)
Dimensions: 16.9 x 8.7 x 2.4 cm
Operating temperature range: -30 to +60° C
Mass: 70 g

Brochure

MAT-IDP690

The sophisticated MAT-IDP690 delivers fast, global, two-way communications with the support of the new IsatData Pro satellite network. Ideal for powered marine assets, the Inmarsat Type Approved MAT-IDP690 connects to main power to provide you with regular, variable and on-demand position reporting.
Ideal for: Powered assets, tugs, workboats.

---

HDtrack enabled - intelligent realtime reporting
Two-way communications via Inmarsat's newest I4 satellite constellation
Choose Inmarsat - a leader in mobile satellite services for the past 30 years
Send and receive more data for better visibility of operations and risk management
Environmentally sealed and engineered for harsh environments
Low look angle engineered for marine applications
Scalable
Integrated 8 channel GPS
Dimensions: 10.1 x 12.6 x 12.6 cm
Operating temperature range: –40 to +85º
Mass: 460 g

Brochure

MAT-SF2500

MAT-SF2500 is a voice satellite terminal with a built-in GPS tracking system, specially designed for reliable performance in harsh and unpredictable maritime environments.
Ideal for: Powered assets, fishing vessels, leisure vessels.

---

GPS tracking & alerting functionality
Alert button for triggering an emergency alert to pre-configured contacts via SMS
Make voice calls and send SMS messages with an easy-to-use colour display
Cost effective for voice calls and SMS
Tough and reliable
Integrated 20 channel GPS
Dimensions: 20.5 x 19.0 x 8.0 cm
Operating temperature range: -10 to +55° C
Mass: 1.1 kg

Brochure